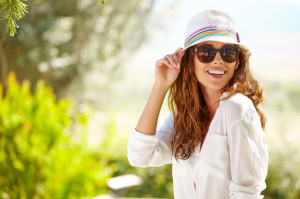 Sometimes it seems like your skin has a mind of its own. Despite your determined efforts to maintain a consistent skincare routine, wear sunscreen, get enough sleep, and drink plenty of water, your skin can act out at a moment's notice.
The culprit of random breakouts and irritation could be the weather or hormones. Or it could be something in your purse.
We've listed below a number of unsuspecting everyday things that could be wreaking havoc on your otherwise-dewy complexion:
Consider your hair and the products you use on it. Many hair products contain ingredients that clog pores, leading to hairline breakouts. Those with bangs are at an even higher risk, as the hair sits on top of the face, leading to direct skin-to-product contact. Bangs can also trap bacteria and sweat, leading to breakouts crawling past the hairline.
Your cell phone, headphones, and sunglasses are breeding grounds for bacteria. All of these things have likely found themselves at the bottom of your purse or on public surfaces that have seen cleaner days. You touch them multiple times throughout the day and they all touch parts of your face, especially your phone.
Hats and scarves often go unwashed, carrying around lots of sweat and bacteria. We've all got that one hat we put on when our hair's just too dirty to show the world. When's the last time you washed that hat? The same goes for your scarves – any makeup or sweat that's rubbed off onto the fabric can find its way back onto your face later, causing breakouts.
Multiple skincare products and incorrect usage can cause negative reactions. When your excitement leads to using 12 different serums in one week, your skin struggles to adjust. If you're not careful, improper use of the few products you use can lead to irritation of existing issues or breakouts caused by remnants of makeup or product.
Touching your face could be detrimental. It's natural, an afterthought. A chin rest here, a brow itch there. It's difficult to not touch your face if you're thinking about it. Are you thinking about it? You probably are now! Our hands touch so many things throughout the day, including our bacteria-laden phones as noted above. Limiting how much you touch your face could help keep your face free of breakouts.
Your skincare routine is important, along with all of the other things you do to maintain your bodily health. If you remember a few of these surprising culprits, perhaps you'll avoid even more of the unexpected breakouts and irritation. If you address all of the things noted here and still experience skin issues, come see us for a consultation to determine your path to great skin.