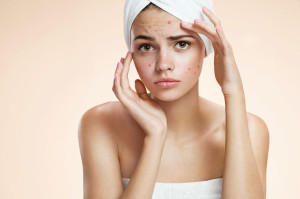 Is your life pretty busy these days? We know the feeling; sometimes there just aren't enough hours in the day. That's why we jump at the chance to use any and all time-saving products. We all love a little convenience, don't we?
It's pretty safe to assume that we've all used facial cleansing wipes at least once. The speedy alternative to your whole skincare routine can be tempting. However, while an extra fifteen minutes in the evening to relax would be lovely, your skin suffers if this becomes an everyday habit.
Facial wipes do not thoroughly clean your skin. This is important, considering clean skin is kind of the point. The ingredients in facial wipes help loosen makeup and dirt from your skin, but the wipe itself will only pick up a fraction of what's there. Traces of makeup and dirt will be left behind on your face.
Facial wipes leave a layer of grime on your skin. The convenience of these wipes means you don't need water to use them. This also means there's no water to help rinse what remains, so your skin is left covered in a layer of leftover dirt, makeup, and product from the facial wipe. This leftover grimy film can attract even more dirt and germs to your skin, leading to layers of detrimental residue.
Facial wipes promote clogged pores and breakouts. All these layers of grime end up seeping into your pores. Together, old makeup, dirt, leftover product, and germs can do some significant damage to your skin. Continued daily use of facial wipes will only continue to worsen any of the issues.
Facial wipes can damage your skin and cause early wrinkles. Knowing facial wipes aren't totally effective, you might mistakenly apply more pressure when using them. This may result in more makeup removed, but less protection for your skin. Aggressively rubbing your skin with facial wipes can damage the protective barrier and weaken the structures that keep your skin smooth and wrinkle-free.
Facial wipes can irritate your skin. Preservatives are included in wipes to help keep germs at bay, but they can negatively affect skin. If you have an existing skin condition like eczema or acne, the preservatives can trigger symptoms or breakouts.
If you'd like to toss your facial cleansing wipes in the trash for good, we'd love to help you find a proper skincare routine that works for you. During a consultation, we can recommend some of our amazing skincare products as an alternative to facial wipes. We can also discuss simple treatments to undo any damage from long-term use of facial wipes.
Say goodbye to facial wipes and hello to better skin!