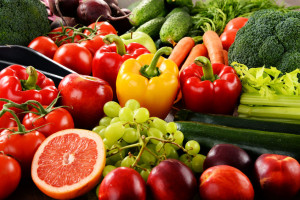 Ever-present in our bodies and environment, free radicals are pretty persistent. These pesky molecules are considered at least partially responsible for signs of aging, along with a host of other health issues.
Antioxidants are a common solution to these problematic molecules, as they naturally counteract free radicals. This is why they've become a staple in skincare products. Antioxidants also naturally occur in many foods, so maintaining an antioxidant-rich diet is another great way to fight against free radicals.
All antioxidants fight free radicals, but some are more common in skincare:
Vitamin C
Also known as L-ascorbic acid, this is one of the most commonly used antioxidants in skincare today. Not only does it actively seek out free radicals, it increases collagen production and brightens hyperpigmentation. As a bonus, it protects skin from sun damage. Pairing this with Vitamin E has proven to boost it's efficacy.
You can find Vitamin C in most fruits and vegetables, especially citrus fruits and bell peppers.
Vitamin E
Sometimes referred to as tocopherol, this is also a popular antioxidant in skincare. It's a powerful aid in skin healing and scar prevention, offers natural anti-inflammatory properties, and protects against the sun's UV rays. Its UV protection and ability to fight free radicals is increased when paired with Vitamin C.
Look for Vitamin E in leafy greens, nuts and seeds, and vegetable oils.
Vitamin A
Often seen in the concentrated form of retinol, this is popular due to its effects on the skin's appearance. This antioxidant speeds up cell renewal and stimulates collagen production, making it ideal for addressing fine lines and wrinkles, skin tone and texture, and impurities like scars and acne.
Vitamin A can be found in both plants and animal products. Search for bright, colorful vegetables like sweet potatoes and spinach or fortified animal products like milk and cheese.
While we want to provide our skin with as many antioxidants as possible, balance is important. Antioxidant supplements that contain higher doses than what naturally occurs in food or our own bodies have shown to lead to health risks. If you want to safely increase the level of antioxidants in your body, try adding more foods to your diet that contain antioxidants. Many skincare products on the market today are formulated with antioxidants, too, allowing us to apply them directly to our skin to see their benefits.
Connect with us if you're interested in integrating more antioxidant-rich skincare products into your skincare routine!