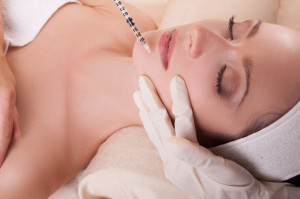 Botox is the number one non-surgical cosmetic procedure in the US. While this treatment has been around for decades and helped men and women alike achieve higher confidence and younger skin with just one office visit, you may be wondering if it's the right solution for you.
Botox was first used in 1977 and approved for cosmetic use by the FDA in 2002. Also known as botulinum toxin, it's produced by Clostridium botulinum, a bacterium found in almost every place in nature, including plants, soil, and water. This naturally occurring chemical blocks a neurotransmitter, causing temporary muscle paralysis. In the tiny doses administered at the doctor's office, this treatment is perfect for wrinkle reduction, reduced crow's feet, and smoother skin.
Here are some ways to tell if Botox is a good fit for you.
You're looking for a quick and easy solution: If your goal is to achieve younger-looking skin quickly and easily, Botox might be the answer. While retinol and collagen creams can improve the look of skin over time, Botox treatments are one of the fastest, simplest ways to see extreme reduction of skin wrinkles and create a younger appearance. Each treatment can take as little as 10 minutes with no downtime. Side effects are extremely minimal, with most users reporting only minor discomfort at the injection site.
You're looking for a safe, effective, high-impact treatment: The results of Botox are fully apparent in just a few days and last for months. While not as dramatic as a face lift or other surgical cosmetic procedure, the smoothing and tightening effects of Botox are impressive. Studies and trials have shown that Botox is safe to use, with less than 1% of users ever reporting adverse side effects.
You want something low-commitment and natural looking: The effects of Botox last a few months, meaning it's effective but not permanent. If you decide that it's not for you, the effects will wear off. If you love your results, it's not hard to fit further treatments into your schedule – just one office visit every few months. Plus, while the FDA cleared Botox in 2002, the treatment has continued to advance and become more and more refined, leading to more natural looking results than ever before. No more frozen face or stiff looking features – modern Botox treatments are a natural looking solution to skin problems like forehead wrinkles and fine lines around the mouth and eyes.
You need an affordable treatment: We charge per unit of Botox, at $11 each. On average, depending on the condition of the skin, a Botox session will require 30 to 50 units to complete. This means that this easy procedure can provide you with realistic looking, beautiful results at the fraction of the price of more invasive procedures.
You want something that works for all ages: We recommend Botox for almost anyone. For people aged 20-70, Botox can make more youthful, relaxed, and rejuvenated skin a reality for everyone.
When considering Botox, one of the most important things to remember is that the best results are achieved by experienced professionals. Our office boasts years of experience and training that lead to the best service results in the area. Our expert staff works with you to define your goals and create a skin care plan that will help you achieve your optimal results. For the best Botox experience in a private boutique setting, get in touch with our http://www.msnewyou.com/ today.