If the eyes are the windows to the soul, you don't want the window dressing to be wrinkled and dusty. Set your soul on display in the most beautiful way with these insider tips!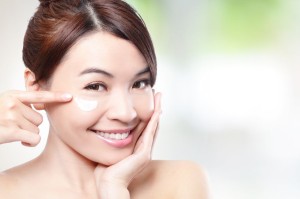 First off, don't use your regular face cream to treat your under-eye skin.
The skin there is extremely thin and delicate, requiring targeted but gentle care. General creams intended for the entire face are often thicker to ensure they penetrate the skin. These creams can cause the thinner skin under the eye to retain extra moisture and appear puffy as a result. General face creams often contain fragrances as well, which can irritate the sensitive skin under your eyes.
Second, under-eye bags and under-eye puffiness are two different issues.
While many confuse the two, they're each the result of different underlying issues. Under-eye puffiness is caused by temporary swelling from allergies, dehydration, or lack of sleep. Bags, on the other hand, are actually genetic and are due to the way your skin and fat cells are structured. Treating puffiness yourself can be easy, but your aesthetician can provide a higher-impact treatment for these issues so the only bags you'll be carrying around are from some quality retail therapy!
Third, losing weight can enhance your dark circles.
We fully support living a healthier lifestyle, but sometimes weight loss can come with some less-than-ideal side effects. Dark circles can be one of those side effects, even more so if you dealt with them prior to your weight loss. If your dark circles are blue or purple in color, they're the result of the blood vessels showing through the thin skin under the eyes. When you lose weight, the little fat that exists in the area diminishes further, exposing your your blood vessels even more to the skin's surface.
If your dark circles are brown, however, it's a bit of a different story. This is likely a genetic issue, and difficult to minimize without the aid of makeup. Some eye creams contain ingredients like mica that reflect light, so look for products like these to help hide some of that darkness.
We've had a lot of experience treating the delicate skin beneath the eyes. We can help you treat or proactively care for your skin to make sure your all of your specific concerns are addressed, and we sell some amazing under-eye products, like SkinCeuticals Age Eye Complex and SkinCeuticals AOX Eye Gel. Come see us for a consultation, and we will be more than happy to recommend the product and regimen that's right for you!