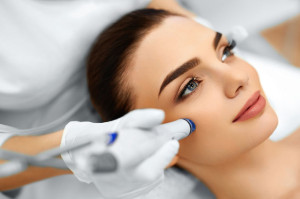 There are a number of treatments out there that promise to promote healthier, more youthful looking skin. But when it comes to finding a solution that leads to dramatic results in appearance after just one treatment, CO2 resurfacing surfaces at the top of the list.
Why is CO2 resurfacing so effective? The process uses a fractional laser to fractional removes layers of skin tissue. Columns of skin are removed, while the surrounding skin is left intact to aid in healing. This skin removal and skin healing process helps to reduce many skin problems and refresh skin for a renewed, more youthful appearance.
But that's not the whole story. Here's what else to know about what to expect from a CO2 resurfacing treatment, and the process to uncover more radiant skin.
It is effective on almost all common skin complaints
CO2 resurfacing is an effective treatment for almost any skin issues. This treatment can help with:
Minimizing fine lines and wrinkles
Reduction of the appearance of scars or stretch marks
More even coloration
Improved, more consistent skin texture
Better, brighter skin tone
Reduced age spots, like sun freckles and liver spots
Reduced pore size
Firmer skin
Many people experience more than one of these issues at once. CO2 resurfacing to help effectively tackle several problems in one session. One reason this treatment is so popular is because it can treat so many skin troubles at once.
The results from CO2 resurfacing are immediately noticeable
Results from CO2 resurfacing are significant and noticeable almost immediately after skin has begun healing. More youthful skin with reduced age spots, fewer fine lines, reduced scarring, and better color and tone are seen after just one treatment. In most people, skin tone will continue to improve for about 6 months after the process.
For the very best results, it's important to make post-procedure skincare treatment a priority. Taking proper care of your skin is one of the best ways to enhance results and ensure they last as long as possible. This means reducing sun exposure, using sunscreen,and avoiding environmental pollutants and smoking.
Treatments can be combined with other skincare regimens for even more benefits
While we can't use additional treatments on the same areas of skin in the same day as a CO2 resurfacing, some patients find that they get the most dramatic results by combining treatment procedures before or after.
For example, some choose to use BOTOX to reduce wrinkles that are produced by muscle contractions several weeks before their resurfacing treatment to bolster results. Dermal fillers like Juvederm can be used a month before or after CO2 treatments to fill in areas where skin has lost elasticity, such as the cheeks, lips, and lower eye area.
We also encourage our patients to use aftercare skin products that will enhance and prolong their results.
It's customizable
We pride ourselves on providing all of our patients a fast, safe, and comfortable experience. That's why we never resign ourselves or our clients to one-size-fits-all procedures. Everyone's skin issues are different, and so we always make sure that every treatment is tailored for that patient. We have the tools and experience to help ensure that every procedure is customized for your unique needs.
However, some people should avoid it
Like any treatment, CO2 resurfacing isn't for everyone. Pregnant women or people who've used Accutane may experience adverse effects to this resurfacing skin treatment.
That said, CO2 treatments are one of the best options for people who want to get the best possible results from one treatment. Curious if CO2 surfacing is right for you? Have questions about what else you can expect or about what other options might be a good fit for your skincare needs? Get in touch with our Madison, Mississippi office today to set up an appointment and let us create a customized skin treatment plan for you.