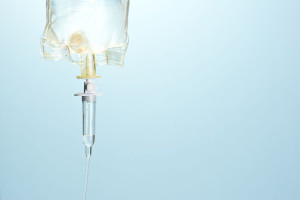 Maybe you've seen us post about it on social media. Perhaps a friend of yours tried it and told you just enough to pique your interest. It could have been Chrissy Teigen's experience that prompted you to check it out.
IV therapy is a popular treatment that's often misunderstood. Simply put, IV therapy provides vitamins and nutrients to your body intravenously. This allows those vitamins and nutrients to get absorbed by your body more quickly and thoroughly.
Most people get their vitamins and nutrients through a healthy balanced diet, supplements, or a combination of both. While this approach can provide your body with what it needs, some people still struggle to reach the necessary levels this way.
When you take in your nutrients orally, your stomach and digestive tract are responsible for absorbing them into your body. However, most people only absorb about 50% of orally ingested nutrients. With IV therapy, you're looking at an absorption rate closer to 90%. Those who have gastrointestinal issues or trouble eating may benefit even more from getting their nutrients via IV therapy.
Let's move on to what sort of vitamins and nutrients are involved in IV therapy:
Vitamin C – its properties are key to immune system health.
B vitamins – these impact mental clarity and focus.
Glutathione – its antioxidant properties are great for anti-aging and eliminating toxins.
Zinc and selenium – these support immune system health, healing and the thyroid.
The vitamins and nutrients in IV therapy can be customized to target specific ailments or concerns. Common reasons people seek out this treatment include:
Dehydration
Fatigue
Overexertion
Hangovers
Cold and flu symptoms
Allergies
Skin health
After an IV therapy treatment, people have reported a number of benefits and positive results including:
Increased hydration
Increased energy
Muscle recovery
Improved mood
Increased immunity
Symptom relief
Improved complexion
In addition to these explicit benefits, many people are inspired by an IV therapy treatment. Feeling great post-treatment can prompt people to create healthier habits in an effort to maintain how good they feel. However, while IV therapy is a fantastic treatment to aid in targeting specific concerns, it should not be a substitute for a healthy lifestyle.
A healthy lifestyle is also about balance. IV therapy can help you maintain that balance, but take care to not go overboard. Some vitamins and nutrients are dangerous in high amounts, so always discuss your diet and supplement habits with your clinician before starting an IV therapy treatment.
Now that you're up to speed on what IV therapy is and how it can benefit you, go ahead and schedule your consultation with us! We'll review all of the options with you to determine the best course of treatment for your needs. With our help, you'll have improved health and one more thing in common with Chrissy Teigen. Who doesn't want that?!