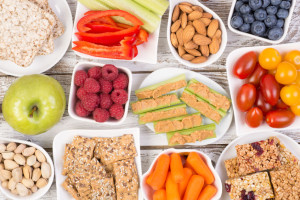 We all want glowing, youthful skin. While modern techniques like Botox treatments, microdermabrasion, and laser therapies have all helped to enhance the look and feel of skin, one of the best skincare secrets is your diet.
The fuel we put in our bodies helps us to work and play, but it can also keep our skin looking its best. In fact, one renowned dermatologist, Dr. Jessica Wu shares, "I tell my patients that what they put in their mouths is as important as the products they apply on their skin."
While Botox treatments and other skin-perfecting services might help expedite the process to your best skin, here's what to add to your diet to help create a better foundation for flawless skin.
To Eat
Water: Our bodies are mostly water and every physical function requires water to perform optimally. Our skin is our biggest organ and water helps it keep it moist, making fine lines and wrinkles less noticeable. It also flushes toxins from your body and keeps skin from appearing puffy and lackluster. Water intake also helps blood flow, which leads to a noticeable glow from head to toe.
Vitamin C: Vitamin C is a powerful anti-oxidant. Cell oxidization damages cells, and anti-oxidants help to prevent or repair that cellular damage. Vitamin C is a powerful agent in the fight against oxidization. Whether it's in a supplemental form, like powder or a pill, or in foods like tomatoes, oranges, berries, broccoli, kiwi, peppers, and sweet potatoes, make sure your diet includes a healthy dose of vitamin C.
Collagen: Collagen is a protein that helps in the formation in new hair, skin, and nail growth and is crucial to supporting tendons, ligaments, bones and joints. Collagen is found in foods like bone broth, pumpkin seeds, chia seeds, berries, and tomatoes. Much like vitamin C, it can also be taken as a supplement, as long as its easily absorbed by the body.
Healthy fats: Avocados, walnuts, olive oil, and fish like salmon are great sources of the healthy fats that lead to smoother skin and a less dried-out complexion. You can also take a high-quality fish oil pill to help support healthy fat levels for better skin health.
Soy: Soy has been shown in some people to improve wrinkles, increase collagen production for smoother, fuller skin, and even protect the skin from UV damage, like an internal SPF booster that can help reduce risk of skin damage and skin cancer.
To Avoid
Sugar: Sugar spikes insulin levels and can lead to inflammation, which can trigger skin problems from rashes to reduced collagen, which leads to less full- looking skin and more pronounced wrinkles. Sugar can also lead to weight gain, which can cause stretch marks and other skin problems. Sugar that occurs naturally, like in whole fruits, is usually fine in moderate amounts, but avoiding excess added sugar is a smart choice
Processed foods: Processed foods are everywhere, but like sugar, they can wreak havoc on our digestion and, in turn, our skin. In addition to inflammation caused by chemical additives and preservatives that our bodies can't digest, processed foods are devoid of the full nutritional content needed to support health, beautiful skin.
Smoking and alcohol: In addition to other negative health effects, smoking and drinking can lead to skin dehydration and rapid aging through cell damage.
Better than Botox treatments?
A balanced, healthy diet is the foundation that all good skin is built on, but it's not always enough to give you the complexion of your dreams. If you struggle with dryness, wrinkles, discoloration, scars, stretch marks, or other skin issues, our full line of skincare products and cutting-edge services can work in tandem with a healthy diet to give you the beautiful skin you crave. From Botox treatments to dermal fillers and skin resurfacing, our team is here to help you find a holistic skincare regimen and treatment plan that supports your skin for life.